Rev. Rick May:

The attendance at this funeral is evidence that Megan was loved and her family is loved and appreciated in this community. President Gerald Ford passed away recently, and thousands of people attended his funeral, but percentage wise, there are probably more people attending Megan's funeral service this afternoon than attended the former president's funeral service. Thank you for coming. We encourage you to be comfortable and we want you to know that you are welcome to express your grief in any manner you desire.



The family has asked me to read the obituary this afternoon:


Megan Marie Smith, 17, of Arkadelphia, Arkansas died Friday, January 5, 2007 at Arkansas Children's Hospital in Little Rock, Arkansas. She was born August 15,1989 at Arkadelphia. She was a member of the First Assembly of God Church in Arkadelphia. She attended Arkadelphia High School and was in her junior year. She was a member of Arkadelphia Students for Christ and played on the girls Soccer team. She was preceded in death by her paternal grandparents, Clyde O. and Annie Laurie Haltom Smith.

Survivors include her parents, Rick Smith of Arkadelphia, Arkansas and Janice Rutherford Almond of Curtis, Arkansas; three brothers, Adam Almond of Curtis, Arkansas, Eric Almond of Orange Beach, Alabama; and Tracy Almond of El Dorado, Arkansas; one sister, Ann Pennington of Hot Springs, Arkansas; maternal grandparents, Alice Jacobs of Arkadelphia, Arkansas and J.B. Rutherford of Antoine, Arkansas.

(Song: Amazing Grace)





Rev. Nathan Rogers:

Megan was a member of our youth group at First Assembly of God and she was always a joy to be around. She had lots of energy and she loved hugs. Every time she saw me she came over and gave me a big hug. While going through Megan's things, the family found a letter Megan had written to God a few months before her death. I would like to read Megan's letter to God:



Dear God,


I know I fall so many times; we all fall a lot and often fail you! I am asking for forgiveness. I don't usually write you letters, but I just felt like it this time, and I hope you are hearing my thoughts. Forgive me for the things I have said in the past month and the past few weeks. I love you more than anything and I think you know that I am yours always. It's just that I am tired of dealing with my problems with my own brain. I am ready for you to take all of my problems into your hands.

Lord, so much piles up in our lives and we all get so caught up in those things from day to day!
I just want to tell you that I love you so much and you are everything to me. And first of all I want to thank you for my family and the ones that love me. I thank you for my friends, and thank you for having a hand in my relationship with James. When I think about all of the good things that you can bless in our relationship, I can't do anything but smile. I just thank you for letting me have self-control in our relationship. I also thank you for giving me the opportunity to learn from my mistakes. Also, I thank you for always being there for me.


Lord, just remember all of our church officials, all of our government officials, and our president. Remember our loved ones, the unsaved and all of the diseased and the ones that are weak and don't know you. I pray for the sick, the rich, and the poor. I pray for the world, Lord that somehow, Lord everyone will some how recognize you, and have at least a little knowledge of you that way they may have a chance to turn it all around to you.


Lord, thank you so much for everything in my life. Thank you for the food in my mouth, the roof over my head, my family and people who love me! I love you Lord, and continue to bless everyone who diligently seeks you! Love you!

Amen.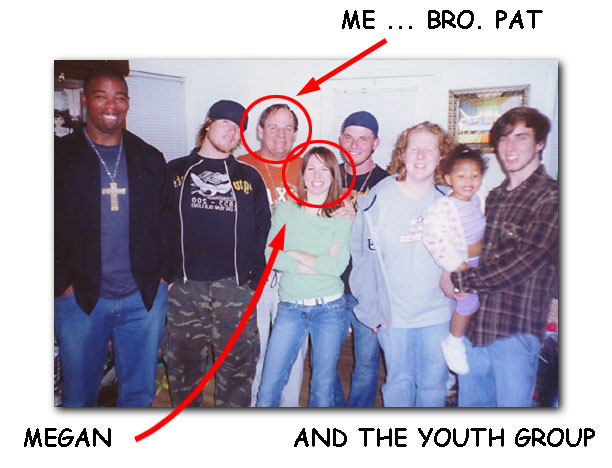 Pastor Pat Spinks:

In West Texas where I came from we had a word to describe kids like Megan. Megan was a "Ring Tail Tutor!" A bundle of energy, a package of enthusiasm! Rick's daughter Megan loved him very much and often acted more like his sister than his daughter. I can remember on more than one occasion when the two of them were engaged in heated discussions. Megan would stand toe to toe with this strapping man, patting her foot, shaking her finger at him, and arguing her case (a little more playfully and respectfully perhaps than this might sound). Oftentimes, she was right.

On Christmas Eve, my children and I, along with Mark Thomas and others, went to Rick's house and sang Christmas carols. When we had finished caroling they invited us in for refreshments and fellowship. There were some clothes piled on the couch, which Rick asked her to move. Megan replied, "They're your clothes. Why don't you move them?" Rick gave her a dirty look and said, "Let's not be disrespectful now. Besides, you're not my mother." Megan replied, "Well someone has to keep you in line." Because they lived out in the country, and Megan was, I believe, his best friend, they had an easy informal way of getting along. Rick grinned sheepishly and eventually moved the clothes. You see, Rick's mother had passed away when he was only 15 years old, and Megan had gotten to an age that she felt the need to "mother" Rick. I guess he didn't mind.

I can remember many occasions when I called Rick on his cell phone, and he and Megan were on the way to the movies in Benton or going to Six Flags or to Silver Dollar City or to the Wizard of Oz Show in Kansas. Rick and Megan travelled a lot and really enjoyed life. They loved one another very much. I don't know Janice, Megan's mother, very well, but I do know that Megan loved her very much too. Every time I saw Megan, she mentioned her mother and reminded me that her mother was a good Christian and attended church faithfully. She also loved and respected her stepfather, Doug.

Sometimes, when I was serving as a substitute teacher in the Arkadelphia schools Megan would drop by my class to say hello. Oftentimes she stopped by two or three times just to let me know she was thinking about me. When she saw me walking down the halls, she always yelled, "Hello Bro. Pat." It was never Pat, or Mr. Spinks, it was always Bro. Pat. On one occasion I was having lunch with Rick and Megan at their home and Megan, looking at me quite seriously, asked, "Bro. Pat, do you believe in evolution?" I replied, "Well Megan, if you mean by evolution that things change, I guess I believe that." Megan replied, "I think it's a Crock." I said, "Megan, to tell you the truth, I think it's a Crock too!"



When Rick asked me to be one of the speakers today, I asked if there was anything particular he would like me to say. He replied, Just pray, get God's direction, and tell people the truth. I don't want Megan's death to be meaningless," he said. "I want it to have an impact on the young people who attend the funeral services." I told Rick I would give the people what God put on my heart: I would like to share some scripture with you from the Word of God.

John 10:9-10, quotes Jesus as saying, "I am the Door: by me if any man enter in, he shall be saved, and shall go in and out, and find pasture. The thief cometh not, but for to steal, kill, and to destroy: I am come that they might have life and have it more abundantly."



Galatians 5:19-26 says, "Now the works of the flesh are manifest which are these; adultery, fornication, uncleanness, lasciviousness, idolatry, witchcraft, hatred, variance, emulations, wrath, strife, seditions, heresies, envyings, murders, drunkenness, revellings, and such like: Of the which I tell you before, as I have also told you in time past, that they which do such things shall not inherit the kingdom of God. But the fruit of the Spirit is love, joy, peace, longsuffering, gentleness, goodness, faith, meekness, temperance: against such there is no law. And they that are Christ's have crucified the flesh with the affections and lusts. If we live in the Spirit, let us also walk in the Spirit. Let us not be desirous of vain glory, provoking one another, envying one another."

Ecclesiastes 3:1-8 says, "To everything there is a season, and a time to every purpose under the heaven. A time to be born, and a time to die; a time to plant, and a time to pluck up that which is planted; a time to kill, and a time to heal; a time to break down, and a time to build up; a time to weep, and a time to laugh; a time to mourn, and a time to dance; a time to cast away stones, and a time to gather stones together; a time to get, and a time to lose; a time to keep, and a time to cast away; a time to rend, and a time to sew; a time to keep silence, and a time to speak; a time to love, and a time to hate; a time of war, and a time of peace."
Joshua 24:15 says, "And if it seem evil to you to serve the Lord, choose you this day whom ye will serve; whether the gods which your fathers served that were on the other side of the flood, or the gods of the Amorites, in whose land ye dwell: But as for me and my house, we will serve the Lord."


"It's Time To Choose!"



Young people, you have been lied to more than any generation that has ever grown up in this country. Educators have told you that mankind began as a slug that crawled up out of the ocean and that your great, great, great, great Grandpa swung through the jungle by his tail. To use Megan's terminology, that's a Crock!


Philosophers have told you that there is no absolute truth and all things are relative. That's a Crock!


Godless people in the medical field have told you that the fetus inside a woman is just a bunch of tissue and you can destroy it if you please. That's a Crock!


Hollywood has told you that you can shack up, sack up, commit adultery, commit fornication, practice immorality of every kind with no consequences: that's a Crock!


Society is beginning to tell you that it's okay to be gay. That's a Crock!


Religionists have lied to you and told you that you can live like the devil and still go to heaven. That's a Crock!


It's time you heard the truth: There is a Great Controversy going on in the universe between two "persons", (using the word persons in a theological sense); a controversy between Satan and Jesus Christ. Mankind is caught in the middle of this controversy.



Who is Satan, and what does he stand for? Satan is a fallen angel, and he stands for death, hate, immorality, perversion, pride, ignorance, prejudice, rebellion, and everything that is evil and ungodly. Satan is responsible for putting Megan in this box. Satan would love to destroy every young person in this place. He loves to destroy both body and soul.



Who is Jesus Christ? He's God of the universe who was manifest in the flesh. He's the author of life. He stands for love, peace, goodness, hope, righteousness, joy, mercy, charity, grace, and everything positive, good, and uplifting. It's time to choose which one of these "Persons" you are going to follow. It's time to choose which one of these "Persons" you are going to obey. It's time to choose which one of these "Persons" you are going to spend eternity with. Choose this day who you will serve!



Mary Forsythe:

Ephesians 6:1-3 says: "Children, obey your parents in the Lord for this is right. Honor thy Father and Mother which is the first commandment with promise, that it may be well with you and you may live long on the earth."

So you see, God has a good life planned for each one of us but He wants us to walk in His ways. In order to walk in His ways, the first thing you must do is ask Jesus into your heart and tell Him you want Him to be the Lord of your life (this instruction is given to us in Romans chapter 10 versus 8, 9 and 10). Secondly, it is important to talk to Jesus every day. We call this prayer, but prayer simply means talking to Jesus. And thirdly, we can allow God to talk to us by reading His Word. The Bible is the Word of God.



I would like to share my personal experience. When I was young, I went to church some, but I did not know the Lord personally. When I was 32 years old, I was diagnosed with terminal cancer. I was told by 3 doctors that nothing more could be done for me. I was frightened because I know I wasn't ready to meet the Lord. I knew I wasn't ready to make heaven my home. Living for the Lord is heavenly now and heaven when we die. Living in sin is hellish now and hell when we die. We have a choice. No one can make that choice for us. We must make that decision ourselves. While looking out of the window of my hospital room, I told Jesus that I had heard I would have peace of mind if I received Him into my life. I told Him that if that was so, I wanted Him to come into my life and be my Lord.



He not only came into my life and saved me, but He healed me also! I was miraculously healed of cancer. I am 64 years old now. I am not ashamed of Jesus, and I always appreciate the opportunity to tell people what He has done for me. Serving God has been a wonderful and exciting life. I pray that everyone who comes across this message will ask Jesus into his life and will begin to serve the Lord with all his heart. Choose this day who you will serve!